LAS VEGAS – Las Vegas Cannabis Tours, best known for their unique, behind-the-scenes industry experiences, has announced a unique spin on marriage with the unveiling of their newest offering, "Las Vegas Cannabis Weddings" which ties the knot for couples in a grow house or at the world's largest dispensary, Planet 13, just steps from the Las Vegas Strip.
Couples can choose between several different base cannabis wedding packages that include either venue of their choice and the officiant fee:
"Quickie" ($400): Get married quickly, includes 20 photos
"Marry Mary Jane"($600): Includes 40 photos and ceremony videography
"Love is in the Air" ($800): Includes 60 photos, ceremony videography, wedding bouquet with cannabis leaves and wedding boutonniere with cannabis leaves
Valentine's Day, Feb. 14 and Feb. 22, (2/22/22), Las Vegas Cannabis Weddings is rolling out an over-the-top $2222 wedding package, available for the entire month of February which includes everything in the "Love is in the Air Package" plus "munchies" served buffet style for the bride, groom and up to four guests, a green one-tier wedding cake, pot party favor gift bags, his-and-hers matching bottle bongs and a helicopter ride over the Las Vegas Strip for the entire wedding party.
Additional add ons that can be added to any package include:
Pot party favors – featuring lighters, rolling papers, rolling trays and green shot glasses, starting at $20 per person
"Munchies": Catered reception at Trece Las Vegas (restaurant inside Planet 13) crafted by acclaimed Chef Manny Sanchez – selections include lobster mac and cheese bites, petite meat ball lollipops, filet mignon, ribeye, baked salmon, chicken confit, bacon-wrapped shrimp, vegetarian lasagna and more, option for buffet style starting at $25 per person or plated prix-fixe menu starting at $35
Cannabis wedding throne rentals – oversized gold rimmed chairs, with fabric in a variety of designs including tie-dye, tropical, holographic and sparkle, each featuring marijuana leaves, starting at $1500 a pair
Wedding dress and veil rental – starting at $250
Prop wedding rings rental – $100
All packages can be viewed on Las Vegas Cannabis Weddings and can be secured by calling 310-722-7864.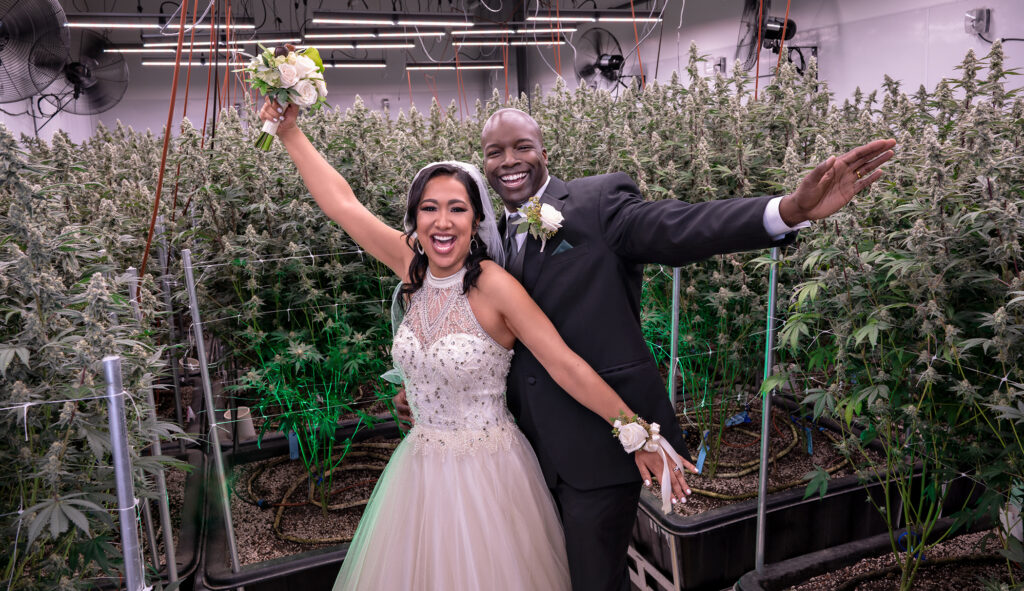 Additional Las Vegas Cannabis Weddings photography can be accessed: here
About Las Vegas Cannabis Tours
Founded in fall 2020, Las Vegas Cannabis Tours offers several unique industry experiences including visits to famed dispensaries, a grow house, cannabis museum, glass dabber blowing and more. Nevada legalized the use of marijuana in 2017 and the demand for recreational cannabis has peaked from both locals and tourists ever since. Each tour is two and a half hours long (excluding the Get High and Fly Tour which also includes a helicopter ride over the Las Vegas Strip) and can accommodate as little as one to fifteen guests at a time. Tours are also available for large groups and private tours, in addition to fully customizable experiences. General tour prices range from $49.99 per person to $375 per person. The rapid and recent success of Las Vegas Cannabis Tours gained recognition in a feature from The New York Times in July 2021. For more information on Las Vegas Cannabis Tours, or to book, please call 310-722-7864 or browsetheir website at www.lvcannabistours.com. Follow them on social media on Facebook and on Instagram at @tourslasvegascannabis.
About Planet 13
Planet 13 (http://www.planet13holdings.com) is a vertically integrated cannabis company, with award-winning cultivation, production and dispensary operations in Las Vegas and dispensary operations in Orange County, California. Planet 13 also holds a medical marijuana treatment center license in Florida and a 49% interest in Planet 13 Illinois which won a lottery for a Social-Equity Justice Involved dispensing license in the Chicago-region of Illinois. Planet 13's mission is to build a recognizable global brand known for world-class dispensary operations and a creator of innovative cannabis products. Planet 13's shares trade on the Canadian Stock Exchange (CSE) under the symbol PLTH and OTCQX under the symbol PLNHF.