SANTA BARBARA, CA – Pacific Stone, a premier seed to sale company producing 6.5 percent of the licensed California market's cannabis flower, has been recognized in the Top Selling Flower, Top Selling Pre-Roll, & Fastest Growing Pre-Roll categories in the fourth annual LeafLink List. The award series from LeafLink, a unified B2B platform for the cannabis industry, celebrates how businesses in the LeafLink community are shaping the future of the industry with expertise and innovation.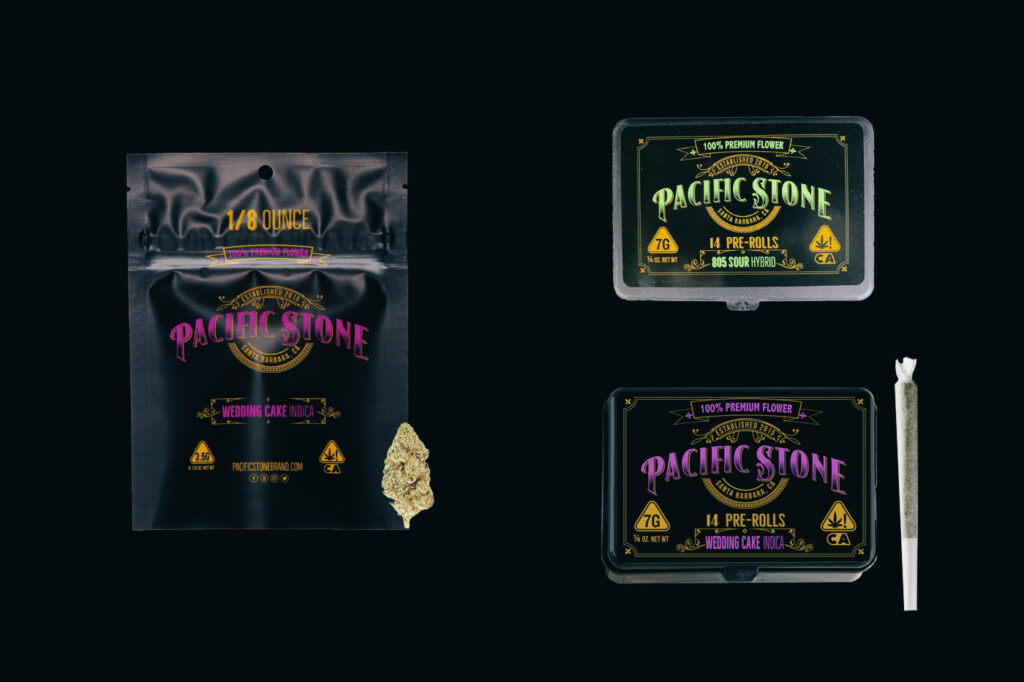 Pacific Stone's award-winning products include their Indica Wedding Cake, dense buds popular for their reported relaxing and euphoric effects; as well as their Indica Wedding Cake Pre-Rolls and Hybrid 805 Sour Pre-Rolls. This is the third year in a row that the brand has received honors from the LeafLink List. Pacific Stone, based in Santa Barbara, CA and known for their sustainable indoor greenhouse production across 25 acres of canopy, is one of the largest cultivators in the state and offers classic strains at a consistent and accessible price point.
"We're passionate about producing clean, consistent and affordable cannabis for all adult consumers, so it's terrific to be honored as part of this esteemed annual award series that shines a light on the best of the best in the licensed cannabis industry."
The 2021 LeafLink List features more than 230 winners from 30 North American cannabis markets across 33 overall categories and 54 market-specific categories, including Top Selling, Fastest Growing, Best Customer Service and Community Favorites. The LeafLink List 2021 was created by analyzing orders through the LeafLink marketplace from January 1st to September 30th, 2021.
The sleeping giant of California's cannabis scene, Pacific Stone's LeafLink List awards illustrate that this privately-owned company, founded by veteran cannabis cultivators and sixth-generation Dutch greenhouse growers, is on its way towards becoming a well-deserved household name. Pacific Stone boasts superior, sustainable cultivation techniques and technology; the company is a seed-to-sale operation, growing, extracting, processing and packaging each and every one of their products. Their greenhouse-grown flower epitomizes consistency, quality and value. Pacific Stone has also ranked six of the top 12 strains on WeedMaps for the past year.
Pacific Stone's LeafLink List awards coincides with more exciting company news: In November 2021, Pacific Stone announced a new partnership with touchless inventory management solutions company, Lucid Green, that will provide cannabis retailers and consumers access to richer inventory data and innovative LucidID loyalty programs. Pacific Stone's agreement with Lucid Green will also allow for faster throughput of regulated cannabis SKU's, crucially saving retailers both time and money.
For more information on Pacific Stone and their portfolio of products, visit https://pacificstonebrand.com.
About Pacific Stone
Pacific Stone was founded in 2015 as a labor of love by friends and family from Santa Barbara County who were passionate about growing clean, consistent and affordable cannabis for California.
We're cannabis cultivators and sixth-generation Dutch greenhouse growers who built the coastal indoor greenhouses we cultivate in. We only sell what our team grows, cures and packs to bring you farm-direct cannabis at the best price, year-round: Single Source. Family owned and operated. Indoor-greenhouse cannabis. California's best-selling flower. Connect on Facebook, Twitter, and Instagram.