As cannabis emerged from the shadows into the warm light of legalization, standards improved dramatically across the industry. The transformation was helped, in no small part, by myriad ancillary businesses that emerged to solve the growing pains of a rapidly developing marketplace.
Now, businesses that established their reputation in similar industries are developing solutions and entire corporate divisions in the burgeoning cannabis space, a healthy sign the industry is maturing. From established retail design firms offering turnkey dispensary solutions to analytics firms pivoting to offer cannabis consumer data, professionalizing cannabis has become big business.
Enter G&D Chillers
G&D Chillers is one of the operations that segued into cannabis from another vertical. Based in Eugene, Oregon, the custom refrigeration fabricator provided solutions to breweries, wineries, and distilleries for more than thirty years before it established a cannabis division. To date, G&D has worked with more than 250 cannabis extraction facilities across the country, and the market currently composes around 30 percent of its clientele.
From the start, G&D observed a lack of chiller solutions specifically designed to meet cannabis businesses' needs. Instead, producers were forced to acquire machinery that far exceeded their requirements, resulting in unnecessary expense.
"A lot of companies that have been in the space up to now have been building very high-quality chillers, but they tend to be fairly expensive because it's lab- or even pharmaceutical-lab-quality," said Lead Sales Engineer Scott Timms, who brought his background in chemical engineering and beer brewing to the company three years ago. "This is great in those situations, but oftentimes it's kind of overkill for these industrial spaces cannabis businesses are housed in. We were able to set ourselves apart by offering a more industrial product that's still high quality but the cost per unit isn't astronomical."
G&D's line of low-temp chillers is designed to help extraction facilities of all sizes maximize output and quality by recovering solvents. The equipment also reduces overhead costs by recycling recovered solvents several times over.
The company's LSX Ultra-Low Temp Chiller is aimed at high-volume cannabis facilities and consists of high-efficiency, semi-hermetic, two-stage economized compressors; baffled stainless steel reservoirs; low-temperature-process pumps; and brazed plate evaporators. The goal, according to Timms, is to make and keep fluid temperatures low enough to ensure the highest-quality extraction. "We refrigerate fluid down to -50ºF or so, and we use that fluid to get the customer's solvents down to -40ºF or -45ºF so they can do their extraction efficiently and prevent post-processing as much as possible," he said.
According to Timms, minimizing post-processing—during which lipids and fats are removed from the extracted material after the fact—is desirable, because the process can lead to a lower-quality extract or a reduced yield.
Working relationships
When a company works with G&D, they are not investing only in the machinery but also the experience and guidance of a team that has spent more than three decades building refrigeration systems for small and medium-sized businesses. While the company works with some experienced customers who can provide detailed spec sheets for the equipment they desire, Timms said the majority of customers actively solicit G&D's advice.
"Oftentimes [customers will] know about how much they want to produce or how much solvent they want to be moving from A to B, but they don't really know how much chilling that requires," he said. "From that, I'm able to ask a handful of questions, do the calculations, and choose the right unit for them."
The process of meeting the customer where they are occasionally requires creative workarounds, like inside-outside units to reduce overheating, or pushing the capabilities of existing systems. "We have had requests that are so big and extensive that we had to optimize their chilling process to have two or three different smaller chillers, which in turn saved a lot of money because some of them are operating at higher temperatures and can be a lot more efficient," Timms said.
This, he explained, is one of the major benefits of having fabrication space. "We can design systems that are going to be the most efficient rather than just selling someone a chiller that has been engineered or designed somewhere else," he explained. "We have a whole team of engineers in-house."
Past is prologue
A focus on customer service has been a hallmark of the company since its inception. Dan Smith, a veteran refrigeration specialist who served the wine industry, founded G&D Chillers in the early 1990s. Looking forward to a retirement spent growing grapes in Oregon's burgeoning wine country, he was pulled back into the world of refrigeration systems after a winery to which he sold products experienced a chiller breakdown. Sensing an opportunity to develop a series of high-quality packaged glycol machines, he launched G&D.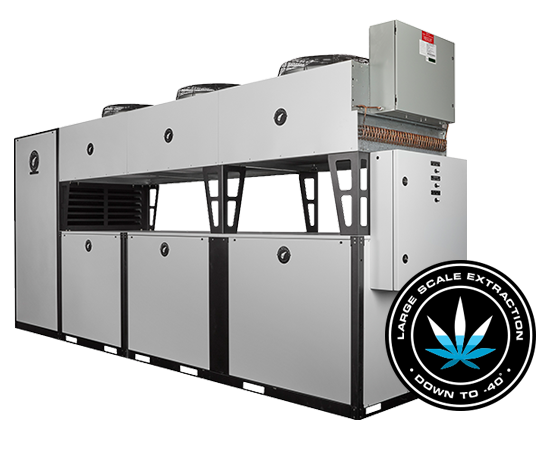 The business grew steadily, serving the local wine and craft beer industries. In 1993, Smith hired a young apprentice named Justin Thomas, who bought the business in 2006 and today serves as president. "Dan hired me because he was looking for a welder/fabricator to help him get his fledgling company off the ground," Thomas said. "I came to work for him and we continued to build a few chillers and it really started taking off."
At that time, the first wave of microbreweries and independent wineries were looking for smaller-scale chiller solutions. Serving that market provided G&D with a lot of experience supporting a rapidly growing industry with an evolving suite of needs.
Over his twenty-eight-year history with the company, Thomas has seen the long arc of maturity in three adjacent industries—beer, wine, and liquor—and believes the similarities between those industries and cannabis make his firm perfectly suited to adapt to change. "As the craft brewing industry matured, our product line changed to keep up with that," he said. "You can see exactly the same progress being charted in the cannabis space. As companies have moved out of the lab and into a more industrial space, they've needed a partner to help. Since we've already been on that scale for a while now, transitioning [into cannabis] was pretty straightforward for us."
Supporting customers and developing long-term relationships is a point of pride for everyone at the company. "A lot of small businesses we work with have been growing over the years," Thomas said. "We have plenty of customers we started talking to five years or ten years ago, and we're still working with them today. Developing the kind of close personal connections that come with working and supporting smaller businesses is probably what's most fun for us as a team."
Timms added, "Working in these spaces is a lot more fun than, say, working in hotel refrigeration or grocery stores. The perks definitely make things a little sweeter."